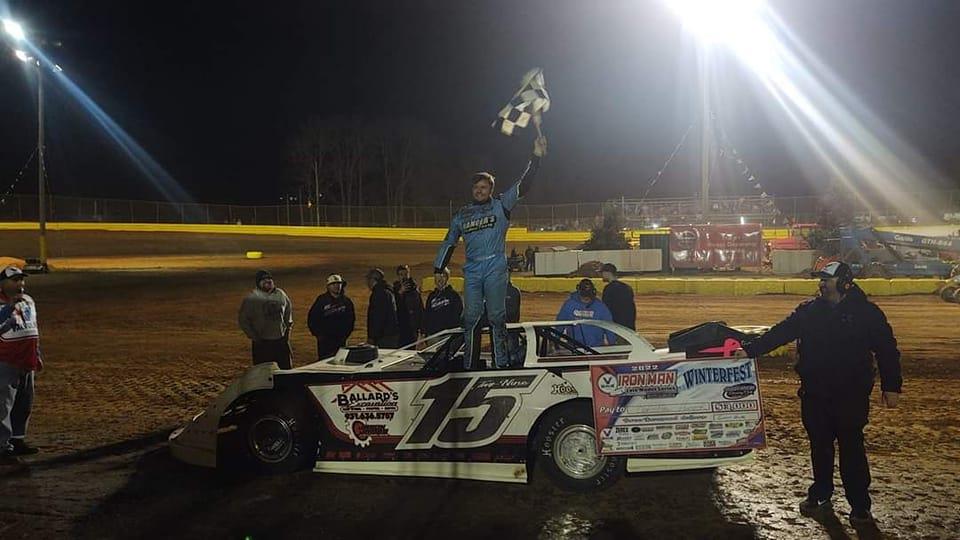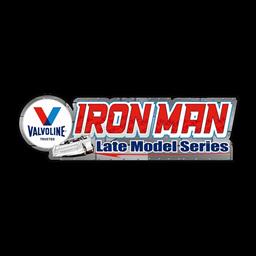 2/21/2022
Iron-Man Late Model Series
---
Christian Hanger Wheels to Winterfest Win at Duck River Raceway Park
LEWISBURG, TENNESSEE (February 20, 2022)– Duck River Raceway Park would host the Winterfest event on Sunday afternoon and CT Promotions/Valvoline Iron-Man Late Model Series would sanction the Super Late Model portion of the event and Christian Hanger of Winchester, TN would lead all thirty laps on his way to the victory and a $3,000 payday.
The 24-year old Hanger would score the win aboard a Capital Race Car powered by a Durham Race Engine with sponsorship from Pro Fabrication, Inc., 4M Farms, Boswell Oil Company, Stephens Septic Service, J&J Construction, Jason James Auto and Diesel, Hanger Farms, Hanger's Hardwood Flooring, Joe Joe Dobson Skid-Steer Service, Ballard's Excavation, and Haymaker Race Bodies.
Christian Hanger would take the lead at the start of the thirty-lap Super Late Model feature contest, with Heath Hindman, Justin Owens, Josh Henry, and Corey Posey giving chase. The front five remained the same until the first caution on lap six when Derrick White slowed in turn four. The restart would not see a lap completed as Robert Stutts would slow in turn two and the following attempted restart would see fifth place Corey Posey spin in turn two. The next attempted restart would go and Hanger would maintain the lead, with Hindman in second, while Henry would take third and Jadon Frame would take fourth, dropping Owens back to fifth. Wil Herrington would make his way to the fifth spot on lap seven when he drove around Owens in turn four. Hanger would maintain a comfortable lead until the next caution waved on lap ten when Shay Miller would spin in turn two. The restart would not see a lap completed as Mark Hadden would spin in turn one. On the next attempted restart, Sam Seawright's machine would coming off turn four and a four-car tangle would occur behind Seawright's disabled machine. The next restart would be a go and the front five would remain the same, but only one more lap would be scored as John Ownbey would stop in turn one with mechanical issues. The front five would remain the same on the restart, but only one more lap would be completed as Dillon Crim would spin entering turn one. The next restart would see Hanger continue to lead, followed by Hindman, Henry, Frame, and Herrington. Hanger would stretch his lead and would catch slower traffic on lap nineteen. Hindman would close in on Hanger at this point, while Frame would pressure Henry and take the third spot on lap twenty-two, with the final caution waving one circuit later when Tod Hernandez would spin in turn four. The final restart would see the top five remain the same, with Hanger taking the checkered flag first, with Hindman finishing second, while Frame would come home third. Henry and Herrington would complete the top five. The remainder of the top ten would be Owens, Josh Putnam, Posey, Joe Denby, and Levi Scarbrough.
For more information about the Valvoline Iron-Man Late Model Series, please contact Chris Tilley at (828) 361-5981 or visit the Super Late Model tour's webpage at www.IMDIRT.net or by visit the tour's page Iron-Man Racing Series on Facebook and Iron-Man Series (@CTPROMOTE) on Twitter.
Official Summary of Results
Feature Results for the CT Promotions/Valvoline Iron-Man Late Model Series Winterfest at Duck River Raceway Park in Lewisburg, TN on Sunday February 20, 2022
Christian Hanger-Winchester, Tenn.
Heath Hindman-Signal Mountain, Tenn.
Jadon Frame-Winchester, Tenn.
Josh Henry-Newport, Tenn.
Wil Herrington-Hawkinsville, Ga.
Justin Owens-Rossville, Ga.
Josh Putnam-Florence, Ala.
Corey Posey-Petersburg, Tenn.
Joe Denby-Tullahoma, Tenn.
Levi Scarbrough-Murray, Ky.
Tod Hernandez-Chattanooga, Tenn.
Justin Taylor-College Grove, Tenn.
Tommy Taylor-Lascassas, Tenn.
Daniel Miller-Lynchburg, Tenn.
Dillon Crim-Eastaboga, Ala.
Shannon Davis-Mount Pleasant, Tenn.
John Ownbey-Cleveland, Tenn.
Sam Seawright-Fort Payne, Ala.
Ryan Wilson-Margaret, Ala.
Shay Miller-Cullman, Ala.
Mark Hadden-Estill Springs, Tenn.
Robert Stutts-Murfreesboro, Tenn.
Derrick White-Athens, Ala.
David Brannon-Elora, Tenn.
Time of Race: 33 minutes, 30 seconds
Margin of Victory: 1.914 seconds
Yellow Flags: Nine (lap 6, 6 restart, 6 restart, 10, 10 restart, 10 restart, 11, 12, 23)
Red Flags: None
Lap Leaders: Christian Hanger 1-30
Entries: 27
Top Qualifier: Heath Hindman 13.163 seconds
Provisionals: None
Heat One Finish (6 laps/top 4 transfer): Joe Denby, Derrick White, Robert Stutts, Levi Scarbrough, Rod Stacy, Brandon Tibaldi (DNS-Randy Gifford)
Back to News