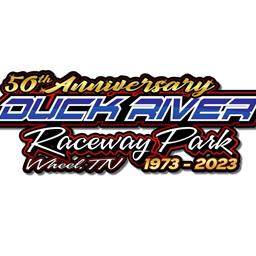 4/27/2019 - Duck River Raceway Park
Shelbyville, TN
Weekly Show
Easter is over but the Bunny left his goodies at the Track and wants ALL his little friends to come see him! First 30 kids through the gates will draw an egg for a special prize, so come early and enjoy a night at the Duck!!
Pit Gate will open at 4:00pm $30 for adults $5 for kids ages 6-12 General admission Gate will open at 5:00pm $10 for adults
kids ages 6-12 FREE. Driver meeting will be held at 6:30pm SHARP! Hot laps will immediately follow Driver Meeting.
ALL CLASSES ARE SUBJECT TO CHANGE!
$10 Transponder Fee for ALL cars.
Mini Cup

7 entries

Factory Stock
Pure Pony

17 entries

Street Stocks

10 entries

Dwarf

8 entries

Late Models

7 entries
Full Event Information on MyRacePass
Mini Cup
Finish
Start
#
Competitor
Hometown
+/-
1
1
7
Logan McClanahan Manchester, TN
Manchester, TN
-
2
2
12
Kaity Chumbley Columbia, TN
Columbia, TN
-
3
3
14
Jaylyn Jo Floyd Mt. Pleasant, TN
Mt. Pleasant, TN
-
4
4
88
Sara Belle Floyd Mt. Pleasant, TN
Mt. Pleasant, TN
-
5
5
16
Jake Niswander Lawrenceburg, TN
Lawrenceburg, TN
-
6
6
247
Peyton Merritt Christiana, TN
Christiana, TN
-
DNS
7
5
Charlie Jackson Joelton, TN
Joelton, TN
-
Pure Pony
Finish
Start
#
Competitor
Hometown
+/-
1
1
22S
Freddie Smith Unionville, TN
Unionville, TN
-
2
2
B5
John Bowling Rockvale, TN
Rockvale, TN
-
3
3
M11
Roland McKelvie
-
4
4
44J
jason james Altoona, IA
Altoona, IA
-
5
5
9
Joshua Nichols Hanford, CA
Hanford, CA
-
6
6
35
Travis Yoes Unionville, TN
Unionville, TN
-
7
7
214
Dylan Baus Cornersville, TN
Cornersville, TN
-
8
8
3F
Justin Farless Mcminnville, TN
Mcminnville, TN
-
9
9
27
Scott West Chapel Hill, TN
Chapel Hill, TN
-
10
10
20
Devin Baus Shelbyville, TN
Shelbyville, TN
-
11
11
4
Blake Woodward
-
12
12
1R
Cody Rogers Spelter, WV
Spelter, WV
-
13
13
37
Tommy Bond Jr
-
14
14
9J
Justin Jackson
-
15
15
21
Trace Underwood Mt. Pleasant, TN
Mt. Pleasant, TN
-
DNS
16
3
Rusty West Lewisburg, TN
Lewisburg, TN
-
DNS
17
906
Blake Ramsey
-
Street Stocks
Finish
Start
#
Competitor
Hometown
+/-
1
1
02
Brian Hudson Elora, TN
Elora, TN
-
2
2
409
Allen Carter Murfreesboro, TN
Murfreesboro, TN
-
3
3
70S
Steve Hadley Murfreesboro, TN
Murfreesboro, TN
-
4
4
50
Marcus McCrary
-
5
5
100
Dillard Hatchett Cornersville, TN
Cornersville, TN
-
6
6
K04
Krista Travis Murfreesboro, TN
Murfreesboro, TN
-
7
7
1A
Gaven Steagall Lewisburg, TN
Lewisburg, TN
-
8
8
24W
Tim Merritt Dover, TN
Dover, TN
-
9
9
10
Logan Hudson Mt. Pleasant, TN
Mt. Pleasant, TN
-
10
10
02S
Jeff Stutts
-
Dwarf
Finish
Start
#
Competitor
Hometown
+/-
1
1
H1
Dylan Hall Tullahoma, TN
Tullahoma, TN
-
2
2
27C
Chris Crutcher Columbia, TN
Columbia, TN
-
3
3
8L
Kris Lafever Winchester, TN
Winchester, TN
-
4
4
Z1
Horece Taylor Shelbyville, TN
Shelbyville, TN
-
5
5
90
Eric Mangrum
-
6
6
8
Blake Hastings Shelbyville, TN
Shelbyville, TN
-
7
7
00
Dustin Hall Tullahoma, TN
Tullahoma, TN
-
DQ
8
04
Anthony Hardison Columbia, TN
Columbia, TN
-
Late Models
Finish
Start
#
Competitor
Hometown
+/-
1
1
7
Shannon Davis Estill Springs, TN
Estill Springs, TN
-
2
2
4H
Dustin Harris Mt. Pleasant, TN
Mt. Pleasant, TN
-
3
3
94
Randy Gifford Fayetteville, TN
Fayetteville, TN
-
4
4
15
Henry Hanger Wichester, TN
Wichester, TN
-
5
5
M1
Shawn Mitchell
-
6
6
41
Rudder Harper Peytonsville, TN
Peytonsville, TN
-
DNS
7
22
David Jackson
-